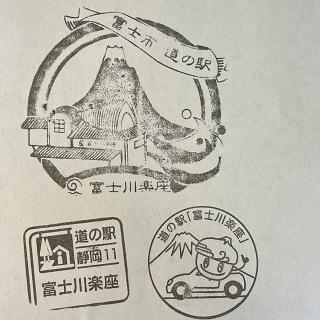 携帯型シンク
やら
ベッドボード兼シェルフ
やらDIYで備品追加ばかりしていても本末転倒なのと、それら備品の実用確認もしてみたかったのでNV200で一泊の車中泊に出かけてみた。
都合上午後の東京出発となり、漠然と富士山を目指して東名高速を名古屋方面に走って気分で辿り着いたのが
東名富士川サービスエリア
である。ここは富士山の眺めが良いということと、サービスエリアからもアクセスできる隣接する
道の駅富士川楽座
が充実していると事前に読んでいた。到着したのは日も暮れた19:00過ぎで、道の駅も既に閉まり周りの景色も把握できなかったが噂を信じることにした。
Just DIY work and setting up equipment (
portable sink
,
bed board/shelf
) is like like putting the cart before the horse, so I decided to go out auto camping with the NV200. I wanted to check out the added stuff in real usage to see if it works. I departed Tokyo late afternoon and headed south towards Mt. Fuji without a specific destination in mind. I ended up heading towards Fujikawa Service Area (SA) on the Tomei Expressway which I read as having a nice view of Mt.Fuji and nice facilities. I ended up arriving in the dark at night unable to check whether my read was correct, but I decided to trust it.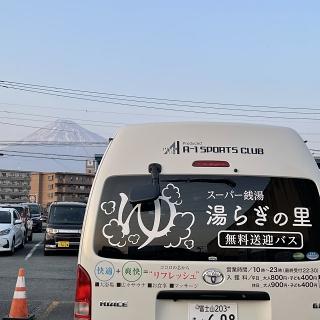 事前に富士ICで高速を一般道に降りて富士市内のスーパー銭湯に立ち寄った。富士市となると遮蔽物はあれど基本市内のどこからでも富士山が望めるのはさすがだ。
夕飯とデザートを買い込んだ後、一個先の清水ICまで走り今度は上り方向の高速に乗ってサービスエリアを目指した。これは施設や景色の充実度から上り線のサービスエリアを目指すべしとの事前情報に従ってのことであったが、結果的には少々無駄足だったと思う。というのも、上り線のサービスエリアに直結していて一般道から行き来ができるぷらっとパークEXPASA富士川(上り)があり、一般道で直接サービスエリアを目指せばわざわざ高速を使う必要がなかったからだ。これも勉強としよう。
サービスエリアに到着すると既に車は疎らで、エンジン掛けっ放しで一晩を過ごす大型トラックも数台奥まった大型車両スペースに見かけたのみであった。車中泊目的の車やキャンピングカーが数台いる。暗闇の中、富士山の位置もわからず適当に少し離れた場所にクルマを停めた。結果的には車窓からの富士山ビューを求めて明け方に移動するのであるが、最初の停車場所も思いがけずキレイな夜景写真が撮れたのでヨシとする。
Before arriving at my destination, I exited the expressway at Fuji interchange and headed to a public bath place for a dip. As the name Fuji-city says, Mt Fuji can be seen from just about anywhere in the city.
After getting dinner and dessert, I headed to Shimizu interchange to get on the expressway and headed towards Fujikawa SA.I later learned that I could have accessed this SA via local roads. Lesson learned.
Arriving at the SA, there were very few cars around, and the (annoying) trucks which keep their engines running all night were parked in their spots a distance away. A few camping cars ready to spend the night here were already parked. In the darkness not knowing which direction and where Mt.Fuji can be seen, I randomly picked a parking place away seeking silence from other cars. Though I ended up having to move the car to a different place early morning in order to enjoy the view of Mt. Fuji from the window, the initial place was also good since I was unexpectedly able to shoot a nice night view.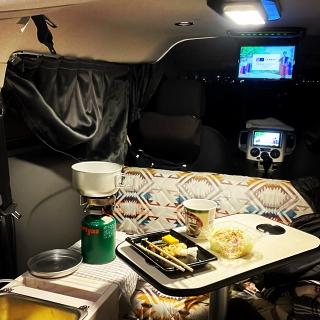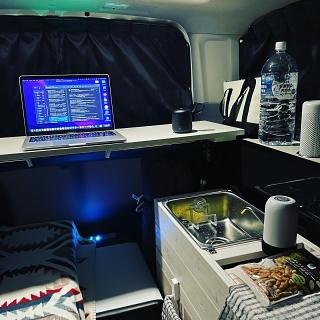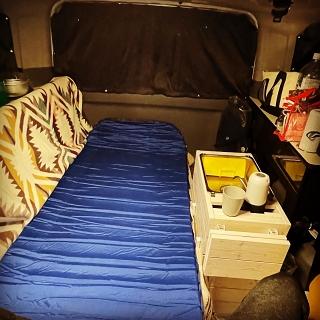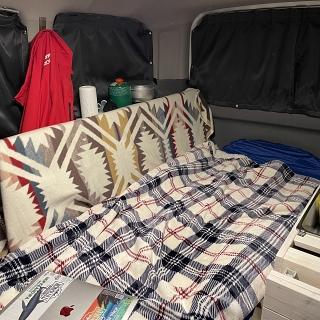 車内でテレビを見ながら夕飯を取り(インスタントみそ汁とお茶用に湯を沸かした以外調理はなし)、デザートを食べながらメールチェックをして夜時間を過ごしているとあっという間に眠くなってきた。出発時に給水タンクを満たしてきた
ギャレー
を使い洗顔と歯磨きを済ませ(動作バッチリ)、
リアシャルフを寝床に変身させて
車内をベッドルーム化させた。これも思惑通りギャレーを残しつつ簡単な作業で実現することができた。ベッドボードは足が華奢なことが影響して寝返りを打つと多少たわむ点が気になったが致命的欠陥ではないと思う。寝返りが打てるベッド幅が確保できたことの方が大きい。季節的にはまだ明け方は寒かったが、FFヒーターを使い暖かい空間で寝ることができた。
As I spent the night eating bento dinner in the car watching TV (no cooking, just boiling water for my instant miso soup and tea) and having dessert while checking my emails, I quickly became sleepy. (I guess that tennis in the afternoon followed by a hot relaxing bath did it.)
Using the sink unit which I filled water with before departure to wash my face and brush my teeth (fulfilled it's role perfectly) , I converted the space to bedroom mode by changing the rear shelf to the bed board. The switch was very easy being able to leave the sink as is. The legs attached to the bed board is a bit weak resulting in the board moving when I turned over, but that's nothing compared to the extended bed width achieved. It was still a chilly night but the FF heater made the van warm and comfortable to sleep in.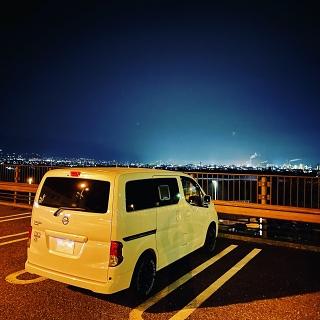 夜中にトイレに起きて車外に出てみると停車位置から見下ろせる富士市の夜景がキレイで、幻想的な写真を撮ることができた。

Getting out of the van midnight for restroom business, I was welcomed by a beautiful night view looking down at the lights of Fuji-city. Was able to catch a nice Instagram pic.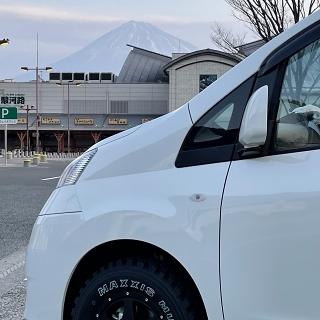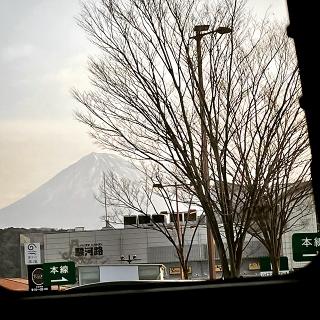 ところが空が明るくなってきたころにもう一回起きてみると、自車の停車位置から富士山は建物の陰に隠れて見えないことが判明。どうりで周りにクルマが止まっていないわけだ。どうしたものかと悩んだ挙句、やはり朝の車窓から富士山が見たいという気持ちが強くて停車位置を移動したのちに二度寝。さらに2時間ほど寝て無事?に車窓からの富士を拝みながら起床することができた。周りがすっかり行動開始している時間までしっかり寝坊できて、時間に縛られない自由を満喫することができた。

However on my second wake up as the sky was beginning to brighten, I discovered that the view of Mt. Fuji was blocked by a building and unseen from where I was parked. No wonder no one was parked around the area. After thinking about the burden of moving the car to another lot, I decided to do it out of strong desire to wake up to a view of Mt.Fuji though the van window. I went back to sleep for another couple of hours, and happily woke up to see what I had wanted to see.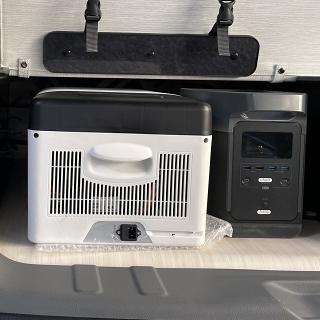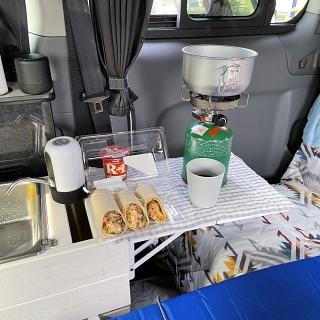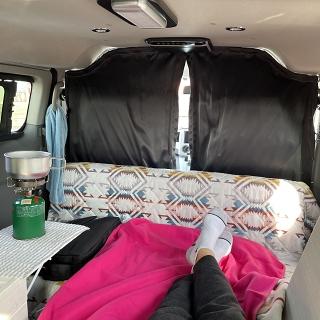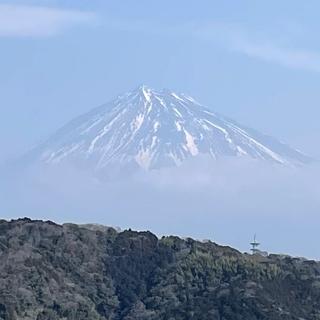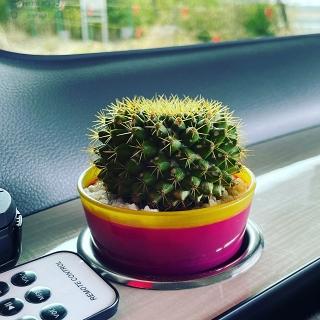 ドリップして淹れたホットコーヒー、14L冷蔵庫をEFDELTAの携帯電源で終夜運転させて保管していた(これも実践確認事項)ヨーグルトとロールサンドで朝食を取り、少しずつ寝床を片付けながらさらにノンビリ時間を過ごしていると、ふと気付けば道の駅はとっくに開店し人も車も随分増えていた。車外に出て土産物店や直産品販売ブースを眺めたり富士山を愛でたりとアテもなくサービスエリアと道の駅を散策していると時間は既に昼前になっていた。直産品販売ブースで運命的な出会いをした車内用のサボテンを買い、ランチを求めて(やっと)出発。

Dripped coffee, roll sandwich and yogurt from the portable refrigerator powered throughout the night by the EFDELTA power brick (another equipment check item) was breakfast. Spent some lazy time in the van slowly packing up and tearing down my sleeping quarters until realizing that all the SA facilities and shops had been already open for a while, and visitors were already coming in waves. I went window shopping teasing the gift shops, enjoyed the full view of Mt.Fuji from the observation deck, and casually strolled around the area till the clock was telling me it was about lunch time. After purchasing a small cactus as my new traveling buddy at a local market booth, it was time to start the engine and leave the SA searching for lunch.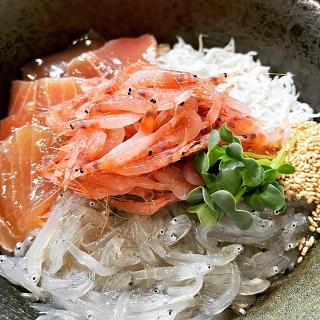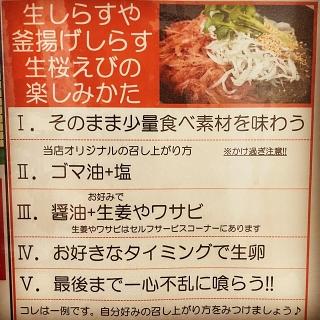 美味しい海鮮を求めて調べたところ、田子の浦港の漁協が運営している漁港食堂が評判が良かったが、臨時休業とのことで、次に評判が良さそうな近くの食事処を目指した。
SUNZOKUという変わった名前(さんぞくと読むらしい)の海鮮食堂はしらすの卸し?店舗の裏にあり注意しないと見落としそうなところに店舗を構えていた。料金先払い、セルフサービスと多少の流儀は食堂らしいシステムで生卵とお椀、漬物がサービスと良心的であった。肝心の海鮮丼は漬けマグロ、生桜エビ、生しらす、釜揚げしらずが載った海鮮ざんまい丼を注文。お薦めの食べ方に従って食べてみた結果、しらすとゴマ油の相性の良さを発見。

I ended up visiting a local seafood bowl eatery called "Sunzoku" near Tagonoura fishing port. The raw fish bowl included maguro tuna, raw and boiled whitebait, and sakura shrimp. Eating the bowl as recommended, I discovered that sesame oil (with a sprinkle of salt) goes well with whitebait.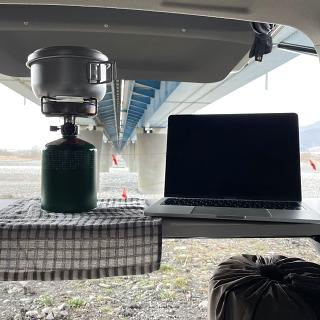 最後は富士川の河川敷にクルマを停めて食後のコーヒーを嗜んで休憩後、ゆっくりと帰途に就いた。

I stopped by the river side of Fuji River for an after-meal cup of coffee, before heading home.