完成したポータブルギャレー
の車載フィッティングを行ってみた。
まず下フレームの収納具合を確かめる。
ギャレーは上下分割式にし、下フレームは背面を板で覆わず開口させた状態にした。これはギャレーとして使用していない時には下フレームを倒してストレージボックスとして活用するためである。ギャレーの縦寸法(奥行き)を29cm弱としたのは床に倒した時にベッド下の収納高30cm弱にフレームを収める為である。ちょうど縦28cmのシンクを見つけることができたのは奇跡的だった。前面にフェルトを貼ったのは引き出しのようにスライドしやすくするためだ。収納箱という観点では横寸(幅)はもう少し狭くして箱の横にECOFLOWのポータブル電源が収まれば理想的だったものの、シンクと給水機が配置できないことには本末転倒なので惜しい寸法となった。そのかわりポータブル電源は高さを含めて収納箱に納まる。
The
completed portable water sink & table galley
is ready for fitting in the car.
First, the lower frame. The portable galley was made so the upper and lower frames can be detached, and the backside of the lower frame kept open. The purpose of this design is to utilize the lower frame on it's side as a storage box when the galley is not in use. The reason for keeping the depth of the galley to 29cm was to fit the lower frame underneath the bed. To make this happen, I was lucky to find a sink with a width of 28cm. The felt on the front side makes it easy to slide like a drawer on the floor.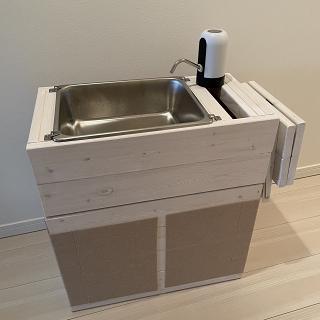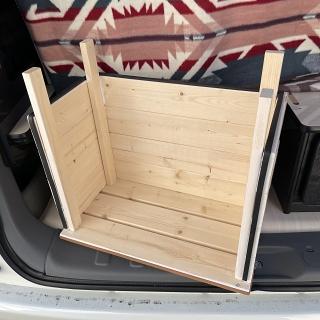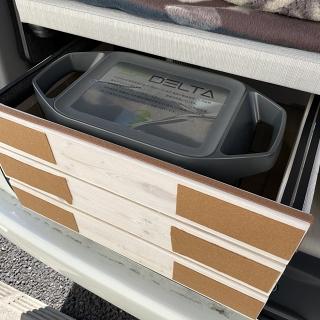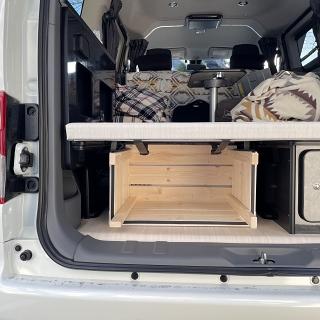 で、肝心のギャレーはシートをL字型に配置したレイアウトで使用を想定。このレイアウトは納車時にレクチャしてもらった(メーカーが想定している)レイアウトではないのだが、本来車両幅方向に配置するベッド板の長手寸法がセカンドシートとリアハッチ間の長さとピッタリであるためにこのレイアウトが可能になる。このレイアウトは対面式のダイネットレイアウトよりくつろぎ感が増し個人的には気に入っている。ギャレーはこのレイアウトを前提に作成し、ベンチシートに座りながらシンクを使う想定で設置を考えた。

I intended this galley to be used in a sideways seat configuration. This seat layout mode was not one that was lectured when I got the car, so I assume it's not a layout intended by the manufacturer. However, the width of the bed floor board (which is designed to fit in the width direction of the car) happens to be the same dimension as the length between the second seat to the rear hatch door...what a coincidence ! This makes the "L" type seating configuration possible. I personally like this configuration since it feels more relaxing than the face to face "dinette" position. The galley was made with this layout in mind, and it can be used sitting on the side seat.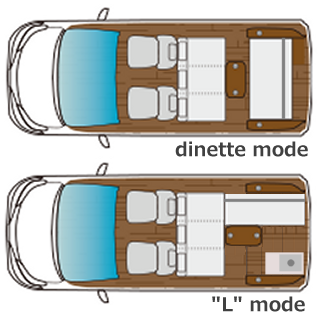 実装確認はイメージ通りで、テーブルを展開してもサイドドアにも干渉しない塩梅のいいサイズ感となり一安心だ。

It was relieving to confirm that the galley size was just right, not interfering with the side door even with the table in place.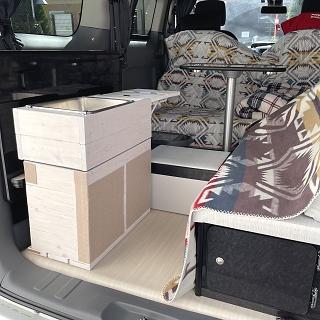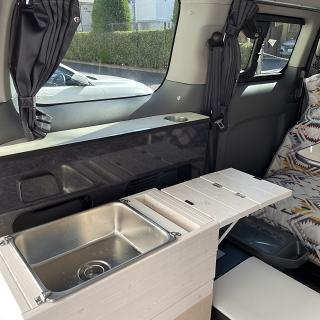 走行時は荷固定用の吸盤を使ってベルトで固定。テスト走行ではガタガタ音も一切なく、思いの外しっかり固定することができた。内装壁に突き当てる為に追加した部材がしっかり効いていることも一因のようだ。
あとは吸盤の吸着力持続に期待。(ゲルが汚く残らなければいいが。)

The galley is tied down using a belt and tie down suction cups. The test drive proved that it was firmly fixed tight without any moving around, more than expected. The part added to the rear of the galley to press the galley to the interior wall seems to be doing it's job well. Let's hope the strength of the suction cups last.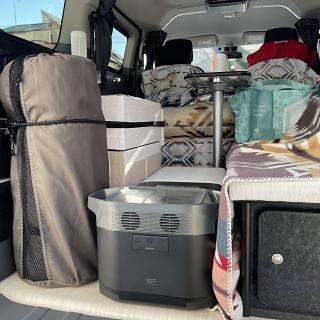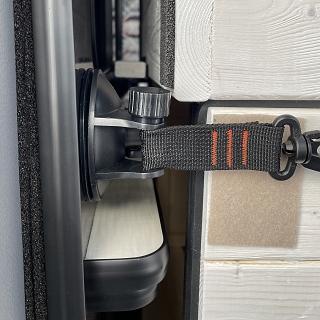 別角度から見た"リビングルーム"

The "living room", from a different angle.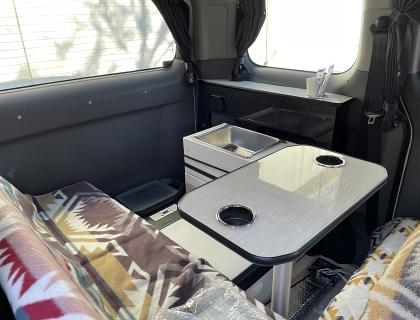 2022.09.04追記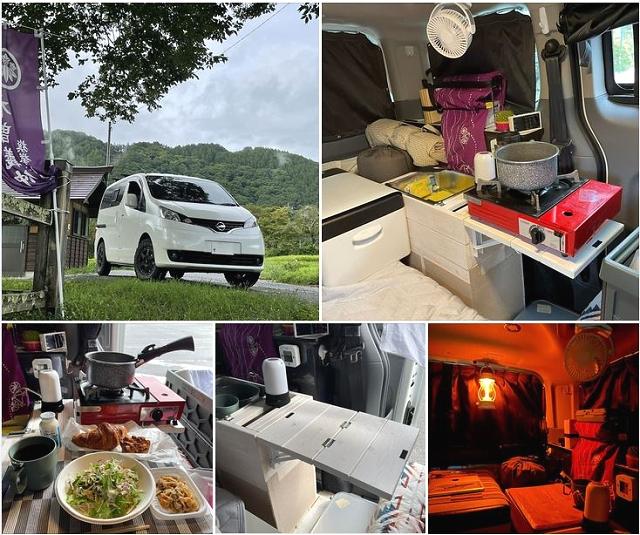 夏休みの旅、携帯シンクも横にオマケで付けた折り畳みテーブルも役に立ってます。