1月15日に
SLKを手放し
、
車中泊可能なワンボックスのオーナーになった
。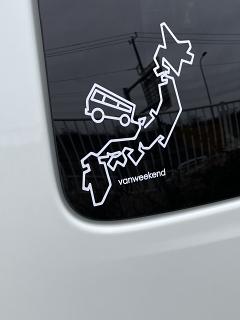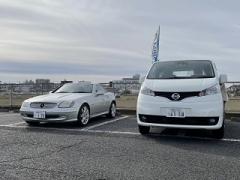 一昨年の後半から検討を始め、昨年の梅雨明け頃に数モデルに絞りこんで各社にヒアリングや見積もり依頼を行った。秋の入り頃に最終候補車を決めて発注。昨今のキャンピングカーブームにより注文が殺到しているようで、現在どこも納期は1-2年かかるらしいが、巡り合せが良く想定以上に早い納車となった。
昨年のBlack Fridayに購入した携帯電源や太陽光パネル等の物品は防災用と言いながら、実は納車を待ちながらのこの車(での使用)目的の買い物であった。
キャンピングカーといえば4-5人が就寝できてトイレや台所などあらゆる生活設備が整ったバスやトラックをベースにした大型タイプのものが想像されるが、日本の道路での取り回しや保管、何より自分がイメージしている使い方(日常的な使い勝手)を考えると最初からバンコン(バンコンバージョン...ワンボックスベースの改造車)に決めていた。
装備が充実している車両への憧れもあり、検討当初はバンコンタイプの王道であるトヨタハイエースベースで装備充実のモデルを検討していた。しかしハイエースといえども外径寸法は決して小さくなく、自分が考える「気軽に使う」というイメージには大きすぎるとの印象を持った。また話を聞いていく中で水回り(シンク、トイレ)や冷蔵庫や電子レンジの備え付けは使用頻度の割には室内空間の犠牲が多いことや、後からDIYで架装を工夫している人も少なくない(かつ、それが楽しい)ことも学んだ。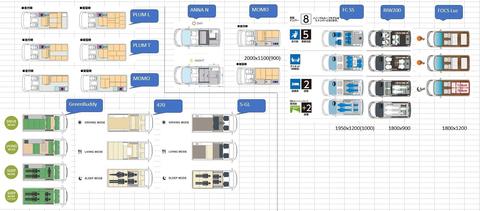 最終的に選んだのは小型バンコンのベース車両として人気がある日産 NV200ベースのFOCS Luzというモデルを選んだ。5ナンバーに収まり全長もさほどなく、キャブフォワードでないので乗用車と同じ感覚で運転できる。ベッド展開機能とサブ電源装備、FFヒーターというキャンピングカーとして最低限の設備のみ架装されている、キャンピングカーとしてはミニマリスト仕様な一台である。就寝人数もmax2名であるが、それで充分だ。冒頭で「車中泊対応なワンボックス」と回りくどい表現をしたのはそのためである。
冷蔵庫は備え付けである必要はないし、簡易的な水回りはDIYしてみようと思う。電子レンジはどうしようか。自分で装備を充実させていくのが楽しみである。
ベース車両のNV200は営業車である。1600ccエンジンの性能もポジティブに特筆するのもはなく室内の品質は逆立ちしても決して高級とはいえないが、今のところ何ら問題はない。かなりローギヤードなので、まだ試していない高速走行が少し心配。標準装備のホイールとタイヤの貧弱さが"営業車度"を増長していた為、オフロードイメージを狙ってタイヤとホイールを付け替えた。選んだマッドタイヤは見た目マッチョでナイスであるが、ロードノイズがかなり大きく快適性については少々失敗感あり。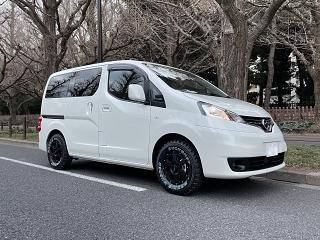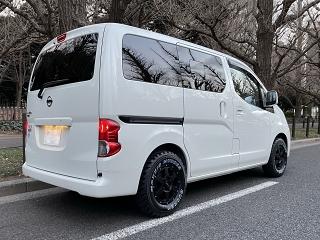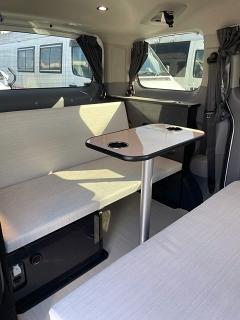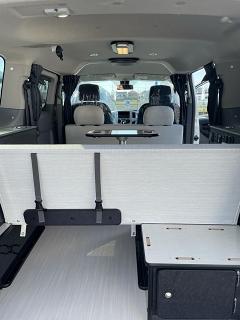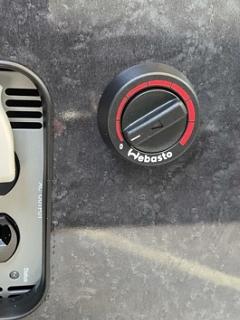 納車後二週間が経過した。とりあえず室内にインディアンデザインのシートカバーとピローを敷いてアメリカンなインテリアの演出とくつろぎ感アップ。出先にて車内で火器を使って沸かした湯で入れたコーヒーでテイクアウトのランチを食べてみたり、室内でパソコン作業をしながら音楽を聴いてくつろいでみたりしてニンマリしている。ソーラーパネルを使ったサブバッテリーの充電テストも試してみた。近場であるが道の駅デビューも果たした。(笑)これから遊びも少しずつ充実させて、早く車中泊旅に出たい。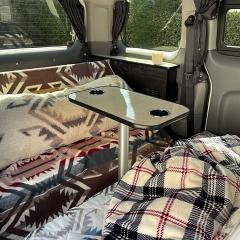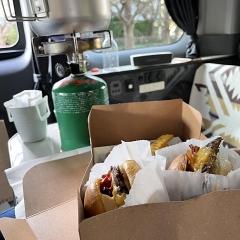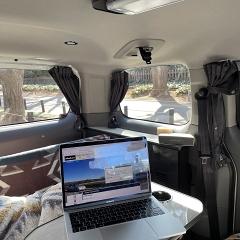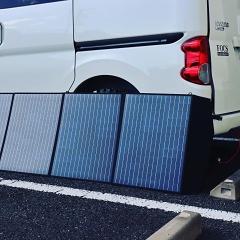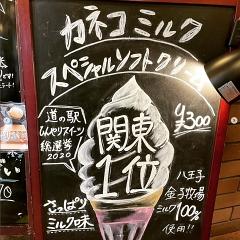 ---
January 15th, I
became an owner of a camping van
trading in my Mercedes Benz SLK
.
I started my search (and study) back in the latter half of 2020, filtered the search down to several candidates around June 2021 and was asking for information and quotes from the manufacturers. I boiled my choice down to one and placed my order around the beginning of fall. With camping currently being a big trend in Japan, delivery typically takes 1-2 years. However with luck and fortune on my side, delivery came earlier than expected.
The solar panel, the portable power unit...a lot of stuff I bought at Black Friday last year was for the camping van I was waiting for.
Considering the in road and parking situation in Japan, I had my thoughts on a van type from the beginning instead of the truck/bus type "motor home" that can accommodate 4-5 people which people would typically imagine as a "camping car".
I did have the desire to get one with many built-in features though, and my search was initially focused on a larger van, the Toyota HiAce with a variety of standard equipment. However, the HiAce was rather large in size to casually use not just for traveling but for daily use. In addition, I learned from research that fixtures such as refrigerators, sinks, and microwave ovens take up sleeping space and not worth the burden in contrast to their low usage. I also found out that many people DIY them afterwards (and find it fun too.) Change of mind.
I ended up choosing a model called the FOCS Luz based on the smaller Nissan NV200, not the HiAce. The camper is equipped with only the basic features such as the sub power supply and FF heater (both necessary when spending time in the car with the engine shut down), and obviously the bed unit. It accommodates only 2 people, fine with me. The minimalist camper. My mind is already thinking about where to put stuff inside like the portable refrigerator, and even have a few sketches already for my DIY sink unit.
The NV200 base car is a commercial van. The 1600cc engine has no positive specs to note, and the interior full of plastic is by no means luxurious. It's not the most exciting car to drive, but I have no issues with it. I do have some worries about how it'll run on the highway since it is low geared and the engine being not so powerful. I opted for off-road looking wheels and tires since the standard ones which are very small and narrow added to the "commercial van look" which I wanted to avoid. The macho looks of the mud tires are nice, but but the massive road noise has me thinking I made a wrong choice.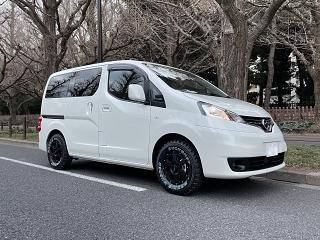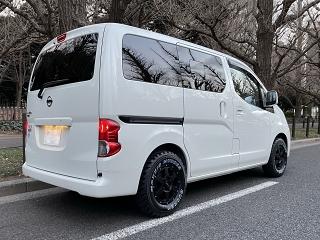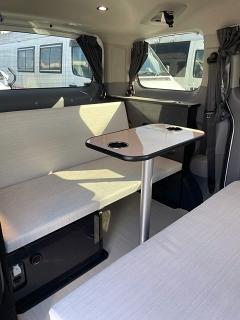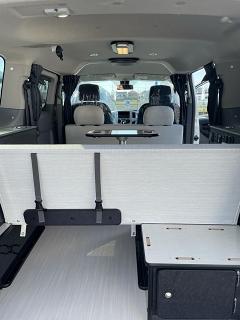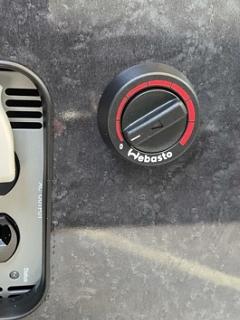 Two weeks have past, and I've only started playing with it.
Added blankets and pillows to make the interior "American" looking, making coffee and eating inside, relaxing with my MacBook (and napping), and trying out my solar panel charging of the sub battery. Even paid a visit to a nearby roadside station for a "park and nap"
Can't wait to take it traveling.