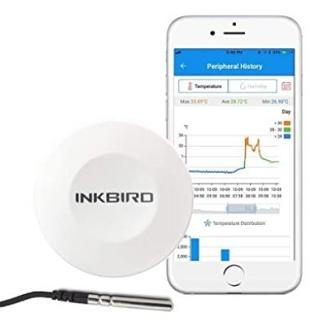 車中泊をすると、車外の外気温が気になる(らしい)。室内の暖房冷房を判断する指標として知りたくなることは容易に想像できる。
Inkbird IBS-TH1
という安価なBluetooth 温湿度計を使って車外の温湿度をモニタリングを試みる。この温湿度 スマートセンサーはスマホとBluetooth経由で接続され、専用アプリで温度、湿度を表示、記録してグラフ化できるものだ。本体に接続するプローブがついていて、本体とは別の位置で測定もできる。
I can easily imagine that knowing the outside temperature when staying overnight in a camping car would be useful in determining heating/cooling options.
I found out about an inexpensive monitoring unit
Inkbird IBS-TH1
that can monitor temperature and humidity and send the data via Bluetooth to your smartphone app. The dedicated app can display the current values as well as log and graph the monitored data. The unit comes with an external sensor probe that can be placed away from the main unit where the measurement is desired.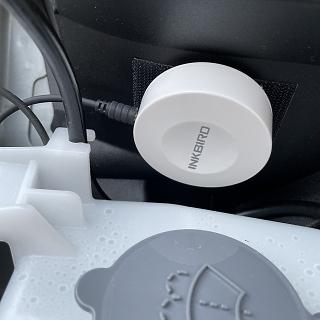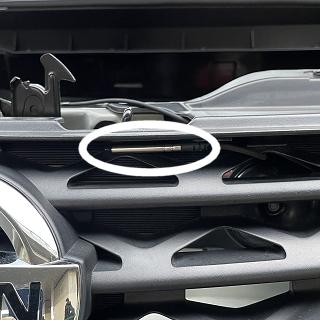 そこでユニット本体をエンジンルーム内に、外気温を測定するプローブをフロントグリル上部の真ん中、ボンネット直下に取り付けてみた。
時々本体通信が上手くいかなく中華製製品の愛嬌に付き合い、数回電源を入れ直して上手く動き始めると無事外気温がスマホのアプリ上に表示できた。(スイッチやリセットボタンがなく、リセットは都度電池を抜き差しするしかない。中華製品だからこそリセットボタンが欲しい。苦笑)
一旦はこれでヨシとしてみたものの、
ネットを調べてみると
エンジンの放熱影響などを受けにくいプローブの取り付け場所は一般的にライセンスプレート近傍とのこと。早速翌日配線をやり直し、プローブの設置位置を下部グリルのナンバープレート近傍に移動してみた。
寒波襲来によりかなり気温が低い日に出かけてみたら、きちんと外気音を拾ってくれて26℃の車内から外気4~6℃を確認してニンマリ。
情報提供してくれた@wakuwakuturtleに感謝

I placed the main unit in the back engine room wall and extended the probe cable up to the front of the car just outside the upper front grill, just beneath the hood. Getting it to communicate with the smartphone app took a few resets to succeed coping with the whimsy nature of cheap Chinese products, but succeeded to display measurements on the app once it got going. (I had to open up a sticky battery cover to take out the battery each time to power cycle. Troublesome Chinese gadget should all have reset buttons. lol)
All went well though I was wondering if the placement of the probe was sufficient to get accurate external temperatures.
A search on the internet (and asking for advice) revealed that the sensor is typically placed near the license plate where there is minimum effect from the engine heat. Next day, rewiring is done and I change the probe location to the lower grill near the license plate. The day happens to be a cold one with a cold front setting in, and I couldn't help smiling to myself watching the app display showing 4-6 degC in the coziness of 26 degC air conditioning.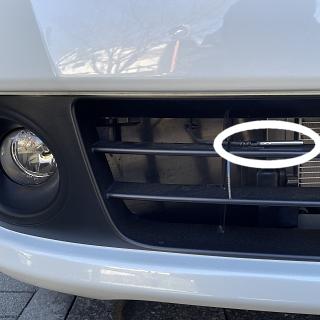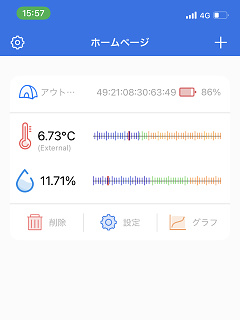 表示器付の
IBS-TH1 Plus
も存在。こちらを室内湿温度の測定用に追加して、スマホで室内外両方の気温差をロギングするというGeekyなことも実現可能。
情報提供してくれた@wakuwakuturtleに感謝

By the way, there is a version with a display on the main unit, that can be used for internal temperature monitoring. The app can be used to log and display both sensor units and play around with. Geeky. Thanks to @wakuwakuturtle for introducing this to me.

おまけ...脱・営業車ルックの備品、悩み中。

p.s. Something to get rid of the "commercial van" look. Still haven't decided.