CHUWI Minibook X
のUSB充電が壊れた。
Amazon経由のサポートへのメール連絡は当初無反応でこれは中華的突き放し対応にやられたかと危惧したが、数日経過後に丁寧なレスポンスがあってからは迅速な対応が続き、着払いの返品到着すぐに新品の代替え品を送付してもらえた。ユーザーデータの退避や返送の手間が掛かるし使えない時間が生じるのでモノが壊れないに越したことはないが(もっとも中華製品を選んだ時点で故障は織り込み済み)、アフターサービスは不快ではなかった。
ちなみにメインPCとのデータ共有を目的に、このPCで作業するユーザーデータはほぼ全てクラウド保存してあったため、今回はほぼ盲目的にOSリセットをかけることができて楽だった。

The USB charging of my
CHUWI Minibook X
broke down.
The contact to CHUWI support via Amazon.jp wasn't initially responding and I was worried that I'd be stuck with blunt Chinese service. That turned out wrong after they responded a few days after, and they became very responsive and decided to send me an new replacement unit as soon as I sent them the broken unit back. Considering the loss of time without the device and the burden of sending back the unit it's best that the product doesn't break down (though it's taken for granted with Chinese products lol), but their support wasn't too bad. Cleaning up the PC prior to sending it back was relatively easy since I had all my user data saved in the cloud, so I was able to blindly reset the OS. Nice thing about having your data in the cloud, besides being able to share it between devices.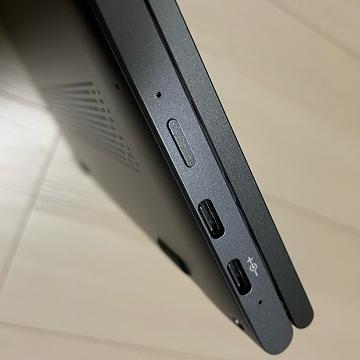 故障内容はPD電源供給(充電)不良。
Minibook Xの電源(AC駆動・バッテリー充電)は2つのUSBポートから供給可能である。
ただし、1つのポートは同梱専用ACアダプターのみ対応する非標準の12V充電、もう1つのポートはPD充電規格に対応したポートである。専用ACアダプターは汎用性がなくスマホなど他デバイスへ充電できないため家に置いておき、PD充電ポートをアテにしてPD規格対応の
ACアダプター
と
バッテリー
を購入して外出時の電源を集約し荷物を減らした。
ところが先日出先でMinibook Xを使用しながら充電すべく、外付けバッテリーをPDポートに接続したものの充電が開始されず、そのうちあっけなくバッテリーlowでシャットダウンしてしまった。帰宅後ACアダプターを接続してみるも、PDポートは充電せず。専用ポート+専用ACアダプターはOK。トラブルシュートの結果、PDポートのハード故障と結論づけてサポートに連絡した次第。

これまでの中華製品の経験から今回も梱包箱を保管しておいたのであるが、予想?通り再利用の機会あり。
(電子機器は緩衝材の準備など返送準備が面倒なので製品購入時の梱包箱を残しておくと便利。)

In detail, it was the PD charging stopped working.
The Minibook X has 2 USB ports that support external power input. One port only supports proprietary 12V charging through the supplied AC adapter. The other port supports the PD charging standard and can accept PD supporting adapters and batteries. I've decided to leave the supplied adapter home since it can't be used with other devices, and purchased a PD adapter and battery I can use across all my devices I carry around.
However the other day, I tried to charge my Minibook X running out of juice with the PD battery as usual, to find out that it wasn't charging. Without any other alternatives, it ran out of power and powered off with my work only half done. Back home, the PD port still didn't work with the PD AC charger though the other port did work with the supplied AC power brick. After a little bit more of trouble shooting, I was convinced that the PD port hardware had broke. Through my past experience with Chinese products, I took it safe and kept the packing box it came in. My feeling that there might be a time that I' need it to sending back the unit was actually right !