車高を抑えつつ、オーバーランダースタイルを求めてルーフデッキの装着を検討中。Rhinorack 社やAEV 社、YAKIMA社製のルーフデッキはかっこいいが如何せん高価すぎて手が出ず悩んでいたところCarMate社のINNOルーフデッキが見つかった。グッドデザイン賞を受賞していて見た目は好みだ。

Thinking about a overlander styled roof deck for my NV200 Camper while keeping the car height low. The ones by Rhinorack and YAKIMA look really cool, but are way too expensive by my standards. Looking for other options, I came across a nice looking one by CarMate INNO.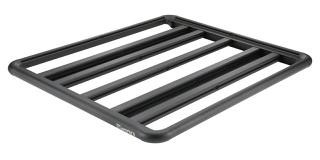 カーメイト inno イノー 【 ルーフデッキ 100 】オーバーランダースタイル 【 エアロ/スクエアベース 対応モデル 】 INA510 黒
カーメイト inno イノー 【 ルーフデッキ 120 】オーバーランダースタイル 【 エアロ/スクエアベース 対応モデル 】 INA515 黒
車両後部に設置することを写真でシミュレーション(↓)してみて、長さ110cmのINA510がバランス良さげと思案中。

Photo simultion, and it looks like the 110cm rack looks better balanced.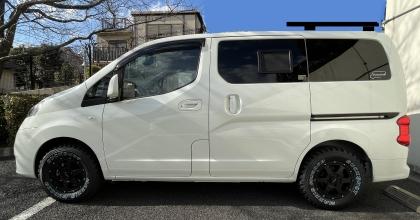 ベースキャリアはTHULE一択。
フットの固定は設置場所が固定されてもフィックスポイント設置を選ぶ。ドアシルに挟み込むタイプは過去にドアの建付けがおかしくなる悪い経験しかないため避けたい。
Thuleを選んだのもフィックスポイント設置用のアタッチメントが用意されているから。
風キリ音軽減とカッコ良さでバー形状はエアロタイプのWingbar EVOを選択。
ルーフラックを後部に設置する予定で、3点あるNV200のフィックスポイントのうち後ろ2つを使う。敢えて前方2つを使う標準的なレイアウトは避けてを個性を出す予定。

THULE was my only choice for the base carrier. Using the fix points on the roof to attach the base carrier was also the choice, having bad experiences in the past clamping the base attachments to the door sill. THULE is the only manufacturer that has a fix point adapter for the NV200. I chose the Wingbar EVO with an aerodynamic cross section looked cool, and will help with wind noise reduction.
I plan to set up the roof rack towards the rear end of the roof, so I used the two fix points of the rear side out of the three. The typical choice would be to use the front two so the carrier would sit on the middle of the roof, but I'm going for something different.


THULE(スーリー) NV200 バネット(バン・ワゴン H21/5~ M20)ベースキャリアセット フット753+ウイングバー EVO7113B+キット3085
2022/06/05:
ベースバーを装着してみた。

First things first, the base carrier system attached.