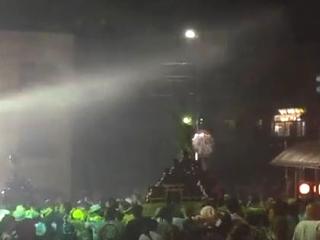 There are crazy festivals (in a positive meaning) in the world such as the Pamplona Bull Running Festival in Spain, and Japan is no exception. I've seen some of them on TV and YouTube, but never had the chance to witness one in front of my eyes.
This May, I happened to come across and take part in one when I traveled to Yugawara, which is few hours from Tokyo, nearby Hakone, famous for the hot springs.
Izu peninsula, which extends from Mt Fuji southwards, with Hakone located at the root of the peninsula sits on top of the volcanic belt that made up Mt Fuji. (Yes, Mt.Fuji is an active volcano folks...))
Therefore, hot springs in Hakone, as well as Yugawara.
The Yugawara Hot Spring Water Sprinkling Festival held on the last Saturday of May is a reproduction of the ritual held before the departure of the mikoshi (portable shrine) for presenting the onsen (hot springs) water to the aristocracy, by purifying it splashing hot water over it and praying for a safe journey.
It's a crazy but rather safe festival unless you have issues getting wet. lol
A video is worth a thousand words....enjoy !
Hot Spring Water Sprinkling Festival


-------------------------------
ハチャメチャ感があるクレイジーなお祭りに興味があるのだが、実際にはテレビやYouTubeで見るだけでリアルに遭遇・参加したことはなかった。
ところが5月末に湯河原に旅行した際についに、偶然「湯河原湯かけ祭」に遭遇してしまったのだ。街中のそこらじゅうが水浸しになる、神聖 but なかなかクレージーなお祭りを見学することができた。
百聞は一見に如かず。↓
湯かけまつりの由来は、遡ること江戸時代。湯の効能が高いことから温泉の湯を樽に詰め、大名家や御用邸に献上した古事が始まりとされています。
当時は、献湯神輿の出発に際し、道中の安全を祈願してお湯をかけ御祓(おはらい)をする儀式があり、これを再現したものが「湯かけまつり」です。徳川時代に起源を持つ湯河原を代表する伝統的なお祭りとして湯河原では毎年大々的に開催されます。