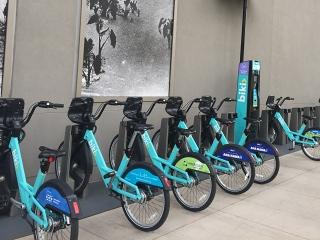 ホノルル市内では昔から観光用にレンタサイクルショップが点在しているが、少し前から公共の自転車シェアサービスであるBIKI(http://gobiki.org)というサービスが整備されて、地元民も含めてリーズナブルにかつ便利に自転車が利用できるようになっている。ワイキキを外れた観光もホノルル市内であれば効率的に回るには自転車は適している。
Bikiはアメリカのシステムらしく、全て(課金はもちろん、利用時間確認、施錠キーとしても)クレジットカードにヒモづけられていて便利であり、ホノルル市内に点在するサイクルステーションで乗り捨てや再レンタルも自由となっている。内装三段ギヤを備える自転車は重たいものの、どれを選んでも整備されていて街中のポタリング用途には十分。当然であるがメチャ長いシートポストが採用されていて長身の外国人も楽な姿勢で乗ることができる点はオリンピックを控える何処かの都市のシェアサイクルサービスにはぜひ見習ってほしい。
観光客はもちろん、自動車社会であるにもかかわらず(ホノルルという特殊環境ではあるが)地元住民も多く利用していて広く浸透していることを伺わせた。
-------------------------------
There were more than few rental bicycle shops in Honolulu from before mainly targeted for tourists. Now Honolulu has a public bike share service called BIKI(http://gobiki.org),and local residents as well as tourists can easily and usefully use bicycles for a reasonable price. Moving around Honolulu outside of Waikiki is actualy efficient by bicycle.
Biki is very "American" by the fact that everything is taken care of with a credit card.Initial registration and requesting the rental,managing the rental time,locking/unlocking of a bike, as well as the payment (naturally) is all associated with the credit card used at registeration. At any BIKI cyce station located within Honolulu, you can drrop off or re-rent the bike using the registered credit card. The hub internal geared 3 speed bicycle equipped with front/back lights and a simple front carrier is sturdy but heavy. All the bikes seem to be well maintenainced and is well enough to use for city use. The bikes are fitted with long seat posts to handle tall riders...something that a bike share service in the city coming up with the Olympics should refer to and take into account....thos seatposts are way too short DOCOMO-San !
It was noticable that the service is well sunk in to the comminity seeing not only the tourists but many local residents were making use of this bikeshare service.