Participated in crowdfunding for a UMPC....ultra mobile PC on indegogo.
What arrived in August, is the GPD Pocket which is a Windows 10 ultra mini size note PC, very much looking like a mini Macbook lol
The design and quality actually is very similar to the Macbook Air except for it's size.
The keyboard has it's side effects do to the sizing....the key pitch itself is pretty spacious but the odd key layout (to fit the keys all in) requires getting used to.
It would have been the ideal device if it had internal cell modem for internet connection.
However, that's about the only two drawbacks with this little gadget.
Overall, a nice interim PDA till I find myself my next iPad ! lol
(pics below)
---
今夏の疲れを癒した物欲の成果!?物 - GPD Pocket
年初にクラウドファディングサイトindiegogoで投資に参加したWindows ポケットPC(UMPC)が8月に到着。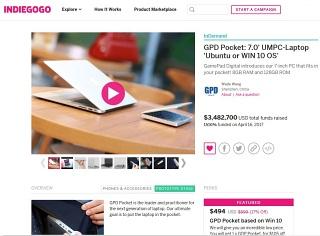 このUMPCのクラウドファンディングは当初募集額のなんと1500%オーバーとなる320万米ドル以上の調達に成功。
参加した時点で既に目標達成していたので企画倒れの心配はなかったものの、実物が届くまではやはり心配であった。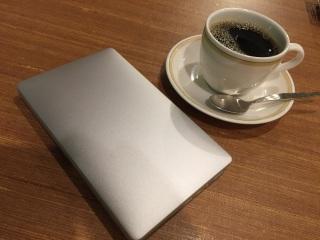 中華っぽい仕様てんこ盛りでソフトウエアは変な動きも多いマシンである一方で、
梱包を含めて外装はMacbook Proを非常に意識したデザインだと思う。もう少し薄ければApple製品でも通用するかも。
スムーズな手触りで高い剛性を実現したエッジ処理がキレイなマグネシウムCNC削り出しの筐体など外装品質は意外に良好。
コーヒーカップとの対比でサイズ感をイメージして欲しい。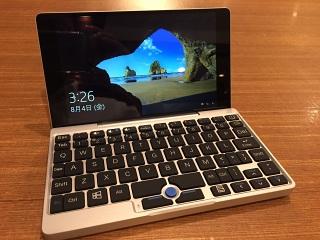 開いた状態。しっかりしたヒンジ、ガタツキが極めて少ないキーボードなどは高級PCをほうふつさせる。
サイズに対してキーピッチは十分な一方で一部変則的なキー配列にしわ寄せがきていて、慣れが必要である。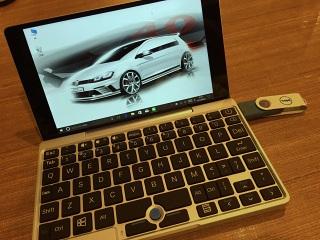 小型USBメモリを指してみると、サイズ感に違和感を感じるくらい小型である。
[CPU] Intel Atom x7-Z8750(1.60/2.56GHz) [メモリ] 8GB(LPDDR3-1600 SDRAM)
[グラフィックス] Intel HD Graphics 405(CPU内蔵)
[ストレージ] 128GB eMMC
[ディスプレイ] 7型液晶(1,920×1,200ドット、16:10、マルチタッチ、Corning Gorilla Glass 3)
[OS] Windows 10 Home 64bit
この物欲、、、冷静に考えるとやはり「コレ」へのオマージュが購買の大きな動機かな。↓
http://pc.watch.impress.co.jp/img/pcw/docs/1079/088/html/03.jpg.html