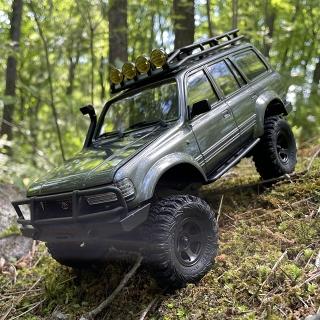 ラジコンカーには昔から興味があって、過去にはタミヤの組み立てラジコンカーを作っては走らせてそのうち飽きて処分してを何台か繰り返している。一番最近では5年以上前に六輪の
F1カー
を組み立てて走らせていたが、最近ではずっと"車庫"で眠っている状態だ。
ロードカーのラジコンは走らせる場所が限られている点が難点だ。地上高も低くサスペンションのストロークも短いため、よほどキレイで平らな舗装路でないと楽しんで(まともに)走らせることができないのだ。専用コース以外の更地などで走らせる場所が余りないことで走らせる機会も少なく、すぐ(言葉通り)お蔵入りしてしまう要因の一つと考える。
そこでオフロードクローラーである。平らな地形よりも岩場や泥濘地を走らせて、サスペンションを動かしながら難しい地形を走破させる、ロードカーとは違う楽しみ方ができる車種だ。平らな地面を探して走らせる必要もない。そしてさまざまなチューンアップで楽しめるらしい。
選んだモデルはFMSというメーカーの1/18スケールのトヨタランドクルーザー80 スケールクローラー。完成度が高いという評判通り、なかなか出来がよく、サスペンションもよく動いで面白い。ボディの再現性も高いカッコイイ四輪駆動車だ。

Radio controlled (R/C) cars has been my hobby for a while, and I've been building ones, running them, then trashing them. The latest one is a Formula 1 six wheeler I built more than 5 years ago, but it's been sitting in the "garage" for a while now.
The issue with road going R/C cars is that there are few places to run them. With low ground height and short suspension stroke, it's difficult to enjoy the ride unless you run them on a really flat and clean paved area. Since there are so few of them around, the cars end up stashed in the closet.
So, off road crawlers. They're made to run off road, up hills, rocks and even muddy areas making full use of the suspension. A different way to enjoy than road cars, and no need to look for flat pavement. A lot of tune up parts add on to the enjoyment. The model I chose for my first crawler was a 1/18 scale Toyota Land Cruiser 80 scale crawler from a manufacturer called FMS. As rumored, it's degree of perfection is quite high and well built, and a good moving suspension with four wheel drive.

RocHobby 1/18 スケール カタナ トヨタ ランドクルーザー RC ロッククローラー モデルカー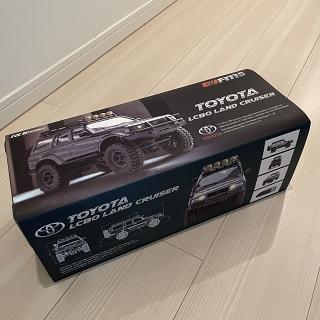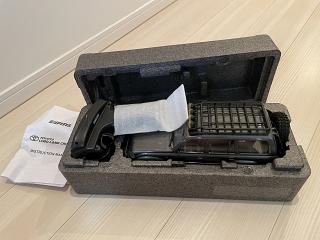 早速走らせてみた。サスペンションもしっかり効いて走破性は高いが、調子に乗ってトリッキーな岩場を横転せずに走らせようとすると案外難しく、走らせ甲斐がある。

Running it in rough terrain showed it's potential with long legs and sufficient torque, but I also learned it challenging to make it climb up and down tricky areas avoiding a rollover. Yes, challenging, and fun.