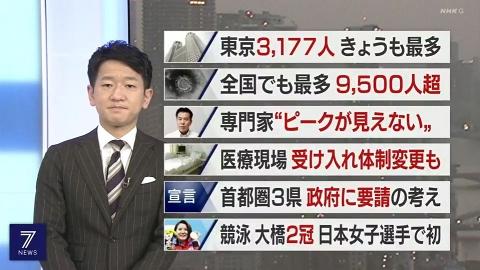 記録のために記しておく。
コロナ感染急拡大のニュースと
東京オリンピックの金メダル獲得のニュースが
共存している2021年7月28日。
オリンピックもコロナの克服も、
どちらも成功させたい。
それはきっと可能だと思う。
そして成功したとき、
それは決してガースーの成果ではない。
成果にさせない。
"我々"がやったのだから。
無策、無力、無視な首相には
自分の成果ズラしてほしくないものだ。
日本がかろうじて持ちこたえているのは
元来からのマスク文化と
政策でも何でもない、
既定路線のワクチン接種のおかげ。
そのマスクも夏の暑さと慣れ、
そして接種による気の緩みで最近は徹底が薄れ、
また我がモノ顔で成果を強調するわりには
ワクチンも配布がグダグダで、
肝心の50代以下への接種もままならない
そして
第五波で過去最高の感染者数を連日記録し、
その50代以下が感染者の大多数を占めている。
ところが首相は
ワクチン接種が進み、
65最以上の高齢者の接種率が上がり
重症者は減っている
と、一か月前から同じ成果自慢。
全くポイントがずれている。
それでも無策のままですか、ガースー?
---
Our prime-minister keeps stressing (bragging ?) that the government has done well preparing enough vaccinations and most of the 65 and over have had their vaccines already resulting in lesser serious patient numbers.
The phase has shifted though where we need to solve the shortage of vaccine appointment slots fast (where did those vaccines go ?? No leisure putting blame to local municipality) and get the under-50 population vaccinated FAST.
PM is totally missing the point.
and...
When the Tokyo Olympics end in success and Japan pulls through out of the pandemic,
IT WILL NOT BE YOUR ACHIEVEMENT PM !
You have done NOTHING.