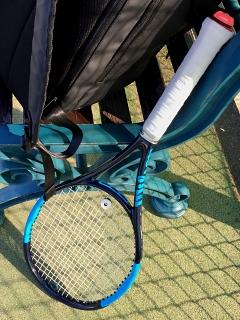 例年の約一ヶ月遅れで今年最初のテニス。ストロークの抑えが効かなかったラケットの一本は緩んだガットを張り直す。肩と肘が痛いこともあり、サービスガットで張ってあったナイロンはやめて当たりが柔らかいものを探す。
フラット系のストローカー用で抑えが効いて、手首に優しいガット。
テクニファイバーのX-ONE BIPHASEの評判がいいが、他にお勧めはないだろうか?

p.s. 本記事投稿中に...ジョコビッチ、2020AO優勝おめでとう。
---
Started the tennis year with a couple of hours of play this weekend.
Had a difficult time holding down my strokes with one of my rackets, and I'm going to blame the strings instead of my skills.
Suffering from a slight tennis elbow and shoulder pain, so thinking about trying a softer type of strings instead of the nylon strings that came with the racket and a bit harsh on your wrists and shoulders.
A lot of recommendations for the Technifiber X-ONE BIPHASE.
Flat stroke player, wanting a string that helps hold down the ball, soft on the wrist and elbows.
Any other recommendations ?

p.s. Congrats to Novak, 2020AO Winner, as I am posting this.