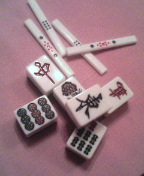 The rainy season is approaching in Tokyo.
Since it continues to rain every weekend, we can not ride on our bikes which we love to do.
When it is raining, we play Majong! We say Chi-Pon!
We are planning to participate in a hill climb race, "TOUR de UTSUKUSHIGAHARA 2006"
next month.
I am worried about lack of power because I can not ride on my bike.
Ta