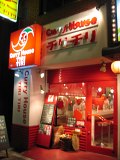 The Japanese liking of curry may seem a bit surprising to people from abroad.
The are countless numbers of curry shops in Tokyo, ranging from Indian, Thai, European (!), to traditional Japanese curry. Magazines often publish articles listing the "best curry rice in Tokyo", and people head to their favorite shops to wait in line to eat them.
There are a variations of curry, like curry-udon(noodles), curry-bread, and several shops now serve "soup-curry".
Curry in Japan is Japanese food, even from the fact that most curry is served with rice as "curry-rice". The root of this culture is the curry-rice that is served as a popular and favorite house dish in Japanese homes. Most Japanese kids grow up eating lots of curry, so the taste is well a part of the Japanese toungue, just like soy sauce is !